Young Tree Aftercare - Bark damage
A guide to some of the key things to remember after tree planting with John Parker, Technical Director of the Arboricultural Association.
Which tree pests and diseases should we be most worried about in the UK?
This was the last episode in season 1 of Arborists' Question Time. Our expert panel gives us an overview of the pests & diseases the UK should be most worried about, were they to be imported.
Our panel included Paula Shrewsbury, Professor Specialist in Entomology from the University of Maryland, Andy Tipping, Chair of the London Tree Officers Association and Ana Pérez-Sierra, Head of Tree Health Diagnostic and Advisory Service at Forest Research.
Keeping our knowledge of the issues that threaten trees is crucial to the health of our future treescapes.
Here you can find out how to spot diseases already present, the threats we are most concerned about, and how to identify and report them.
Reporting Pests & Diseases
Learn how to report signs of dangerous tree pests and diseases.
Cases of ill health found in trees across the UK and Ireland should be reported through:
For the UK the Forestry Commission's TreeAlert which can be found at:
In Ireland and Northern Ireland use TreeCheck which can be found at: www.treecheck.net
There are many invertebrates like mites and nematodes, bacteria, phytoplasmas, water molds, plants (mistletoes) and viruses that can cause damage and need to be avoided through biosecurity measures.
More information
The Forestry Commission has also produced the following information about pests and diseases and associated biosecurity. Click a link below to find out more.
For more information on pests and diseases and how we can help reduce their spread, take a look at their website: www.gov.uk/guidance/prevent-the-introduction-and-spread-of-tree-pests-and-diseases
Information contained on this page are © copyright of the Forestry Commission and are used with their permission.
Tree Selection, Planting and Maintenance
Selecting the right tree for the right place
Planting a tree in your garden is a decision requiring forethought and planning. Consideration must be given to the surrounding landscape and buildings, space available, soil type and location of the particular site.
Careful thought will help to ensure that an appropriate species is selected for the particular location, so giving the tree the best chance of successful establishment and future growth.
The Trees and Design Action Group (TDAG) offer comprehensive guidance with their resource Tree Species Selection for Green Infrastructure: A Guide for Specifiers, which includes information for over 280 species on their use-potential, size and crown characteristics, natural habitat, environmental tolerance, ornamental qualities, potential issues to be aware of, and notable varieties.
Further advice and information can be obtained from the Help & Advice section of this website as well as an AA Registered Consultant.
Tree planting
It is essential that young trees are given every opportunity to survive planting. Poor planting practices can result in long-term problems and even the death of the tree.
Information on how to plant your trees can be obtained from a competent Arboricultural Consultant, a competent Arboricultural Contractor, Specialist tree planting contractors or Tree nurseries.
Maintenance in the first few years following planting is crucial to ensure establishment. Young trees need TLC:
Tending – check stakes, ties, guards and prune out broken and diseased branches
Loosen ties and remove the stake altogether if the tree is stable
Clear vegetation from around the base
Add water when required
Tree maintenance
Most trees do not require regular pruning but there are occasions when tree work is necessary. You must take great care in deciding who you will take advice from.
Trees can suffer ill health from pests and diseases and or as a result of climatic or environmental changes.
If your tree looks unwell, appears different to normal or you consider that tree works might be required, you can obtain guidance and advice from the following sources:
Tree Pruning is part of a series of general information leaflets produced by the Arboricultural Association.
The Association provides membership services, accreditation and support to 3,000 professional arborists in the UK and further afield.
We strongly recommend that you use an accredited ARB Approved Contractor or AA Registered Consultant who has been vetted and approved by the Arboricultural Association.
You can find an accredited tree surgeon or consultant though our directories at www.trees.org.uk/Find-a-professional Please note the association is not able to provide direct advice to the general public.
How a tree works
Before we discuss pruning, we need to consider what a tree is and how it works. An appreciation of the processes involved in the growth of tree will help us to understand the principles behind pruning.
A tree is a dynamic living organism that has a self-supporting woody stem. Through the process of photosynthesis the tree converts carbon from the atmosphere into sugars, which it uses to make the building blocks of cellulose and lignin required to sustain its self-supporting structure. The sugars produced are transported throughout the tree via the inner bark area, known as the phloem, to where they are required; sugars not immediately required are stored within the trunk, branches and rooting system.
The tree roots absorb water and other essential nutrients and minerals from the soil, which are then transported to the leaves via tubular vessels called xylem. The minerals, along with the sugars produced via photosynthesis, are used to produce the flower and subsequently fruit to advance the next generation of trees.
Why prune your tree?
There are many reasons why trees might need pruning. These reasons could include improving the structure of the tree, to remove dangerous or defective branches; the reduction of shading, the reduction of wind loading or to provide clearance between the tree and a structure – to name just a few. Care must be taken however, as removing too big a branch can lead to disease entering the tree via the wound/s left behind, or reduce the vitality of tree due to the excessive volume of leaf bearing material being removed.
Before any branch is removed the following questions should be asked:
What will be the result of removing this branch?
Will it leave a large wound?
Will it remove a large area of leaf bearing material?
Will it leave the tree open to an increased risk of disease?
If the questions above can be answered with a "No" then the removal of the branch can proceed. It is very important to realise however, that the removal of tree branches can be a dangerous process and the safest option, particularly if the branch cannot be reached from the ground, is to employ a suitable trained and insured arborist (also known as a tree surgeon). A list of Arboricultural Association ARB Approved Contractors is available on our web site at www.trees.org.uk/Find-a-professional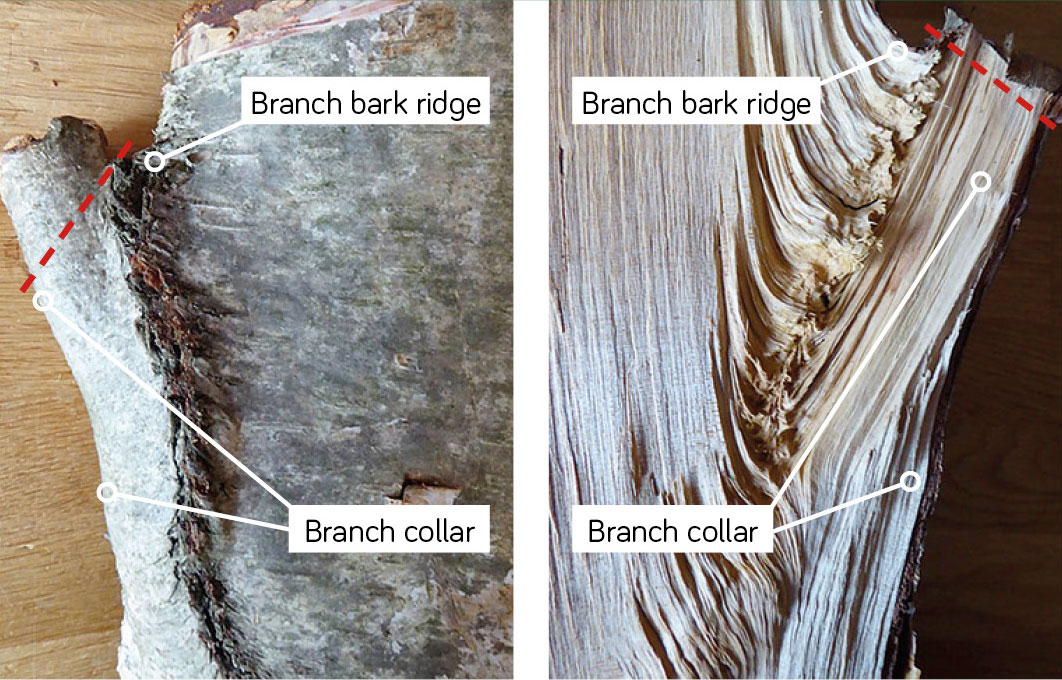 Figure 1 – Optimum position of the final pruning cut
How to prune a tree
Branches were once buds that became twigs, and over time and incremental growth, have gone on to form a branch. As the tree produces an annual ring of growth, so does the branch, strengthening the attachment of the branch to the tree. This attachment point will sometimes exhibit a strip of raised bark known as a 'branch bark ridge' on the top and sides of the branch and a 'branch collar', which is the area around the base of the branch.
To keep the wound as small as possible, the British Standard for tree work (BS 3998: 2010 Tree Work – Recommendations) states that the diameter of the final cut should not exceed one third of that of the parent branch or stem.
To remove the branch, a sequence of step cuts should be made with a shallow cut being made first on the underside leading to a top cut outside i.e. past, the underside cut. This will reduce the risk of the branch tearing down the stem and leaving an unsightly and potentially damaging wound; the final pruning cut can then be made at the branch bark ridge and branch collar.
When removing a branch, the final cut should be made from the branch bark ridge to the branch collar, along the red dotted line in figure 1. By following the imaginary red dotted line, the size of wound, in relation to the parent stem, will be left as small as possible. Some branches do not form a distinct branch collar, where this occurs, the cut should be made so as not to damage the branch bark ridge whilst leaving a small diameter wound.
If a large diameter branch is removed, the risk of disease entering the wound increases. Certain fungi and bacteria can enter the tree via these wounds and cause the woody structure of the tree to decay. Although decay is a normal process in terms of a trees life cycle, advancing this process by incorrect pruning can have serious consequences by compromising the health and structural integrity of the tree.
When to prune
If the decision has been made to prune or remove a branch, then a decision has to be made when to carry out the work. Pruning should generally occur after the leaves have 'flushed' and hardened, so late spring through summer. There are some exceptions, however, as some species such as Birch, Walnut and Maples, will 'bleed' sap and risk losing valuable sugars in the process if pruned in early spring, therefore the pruning of these trees should be carried out when this risk is low i.e. summer or mid winter.
Species belonging to the genus Prunus such as Cherry partially rely on the production of a resin or gum to aid in the defence against wound related pathogens, therefore pruning should occur in the summer. In general, pruning should avoid periods where the exposed wood will be left open to severe conditions such as drought, frost, and periods of fungal sporulation (autumn). Table 1 below gives the appropriate time to prune for a number of species commonly planted or found growing naturally within the United Kingdom and Northern Ireland and also indicates species specific tolerance to pruning. It should be noted that in most circumstances, unless there is a potentially hazardous structural defect that needs to be addressed, it is always best to prune trees as little as possible, as removing large amounts of wood and foliage reduces the ability of the tree to photosynthesise and can put the tree under significant stress.
---
Please note: Trees may be legally protected and unauthorised work can lead to prosecution. It is also your responsibility to ensure that protected wildlife is not harmed. Further advice can be found on our website at www.trees.org.uk/Help-and-Advice
Species
Tolerance to hard pruning Good, Fair or Poor
Optimum time to prune
Notes
Deciduous trees
Acacia
Fair
Spring (late)
Living wood most obvious, dead can be easily identified
Ailanthus
Fair
Spring (late) to summer
Alder
Fair
Spring (late) to summer
Apple
Good
Winter (mid)
Prune every year for fruit production
Ash
Fair
Spring (late) to summer
Beech
Poor
Spring (late) to summer
Birch
Poor
Summer or winter (mid)
Prone to bleeding
Cherry (& other Prunus sp. e.g. Almond, Apricot, Peach, Plum) and Silver leaf. Avoid fungal sporulation period (autumn)
Fair
Summer
Prone to drought, frost damage
Elm
Good
Spring (late) to summer
Eucalyptus
Poor
Spring (late) to summer
Hornbeam
Poor
Spring (late) to summer
Horse Chestnut
Good
Spring (late) to summer
Avoid if possible as regrowth is weak and heartwood is quick to decay
Lime
Good
Spring (late) to summer
Magnolia
Fair
Summer (mid)
Reduces bleeding and allows time for healing to begin
Maples (inc Sycamore)
Fair
Summer or winter (mid)
Prone to bleeding (Field maple less susceptible)
Mulberry
Good
Winter (mid)
Oak
Good
Spring (late)to summer
Plane
Good
Spring (late)to summer
Poplar
Good
Winter (mid)
Prone to bleeding
Robinia
Good
Summer (mid to late)
Prone to bleeding
Rowan
Fair
Spring (late) to summer
Walnut
Poor
Summer or winter (mid)
Prone to bleeding
Whitebeam
Poor
Spring (late) to summer
Willow
Good
Spring (late) to summer
Evergreen trees
Cedars
Poor
Winter (mid to late)
Avoid any pruning if possible. Shoots will not grow from old wood – therefore prune lightly.
Cypresses
Poor
Spring (late) to summer (early)
Shoots will not grow from old wood – therefore prune lightly
Firs
Poor
Summer (late) or winter (late)
Avoid any pruning if possible. Shoots will not grow from old wood – therefore prune lightly
Hemlock
Fair
Summer (late) or winter (late)
Holly
Fair
Winter (mid to late)
Holm oak
Poor
Winter (mid to late)
Pines
Poor
Spring (late)
Avoid any pruning if possible as buds only at shoot tips. Newest growth can be removed during the spring
Spruce
Poor
Summer (late) or winter (late)
Shoots will not grow from old wood – therefore prune lightly
Western red cedar
Fair
Winter (mid to late)
Yew
Fair
Summer (late) or winter (late)
Branches or roots from my neighbour's tree are growing over my boundary. What can I do?
Under 'common law', you may be able to prune branches and roots which grow over your boundary.
However, you also have a legal duty to take 'reasonable care' whilst undertaking any works and you may be liable if you damage the tree or cause it to become unstable.
It is therefore unwise to undertake works without first consulting a qualified arboriculturist (tree expert), ideally approved by the Arboricultural Association.
You should also check with the Council prior to undertaking any works to make sure that the trees are not protected.
Can I get my neighbour to cut back or reduce the height of their trees or hedge?
In most situations the simple answer to this is no. You have a common law right to prune back parts of a tree or hedge growing over the boundary into your property (subject to any legal restrictions being overcome first such as Tree Preservation Orders or conservation areas) but you cannot compel the owner of the trees or hedge to carry out this work or pay for it. As a general rule you have no legal right to a view which has been obscured by your neighbour's trees.
If your neighbour owns an evergreen hedge close to your property you can make a formal complaint to your Local Planning Authority (LPA) under the High Hedges legislation as set out in Part 8 of the Antisocial Behaviour Act 2003. There is usually a charge for this process. The LPA will consider the complaint using standard government guidance set out in a document called Hedge Height and Light Loss. If your complaint is successful the LPA will determine an Action Height to which the height of the hedge must be reduced.
If your neighbour's tree or hedge is dangerous and is a hazard to your property then there is action that can usually be taken. In this situation you should contact an arboricultural consultant for further advice.
It is always better to settle a dispute about trees amicably and it is recommended that you try to resolve it by talking to your neighbours first.
Further information:
How do I report a problem with a tree on council land?
---
If you have any concerns or enquiries about a tree on Council land, contact the Council directly.
Topics:
council, council land, problem tree
Find a Professional
If you need advice or tree management services - always use an Arb Approved Contractor (Tree work) or a Registered Consultant (Arboricultural consultant).