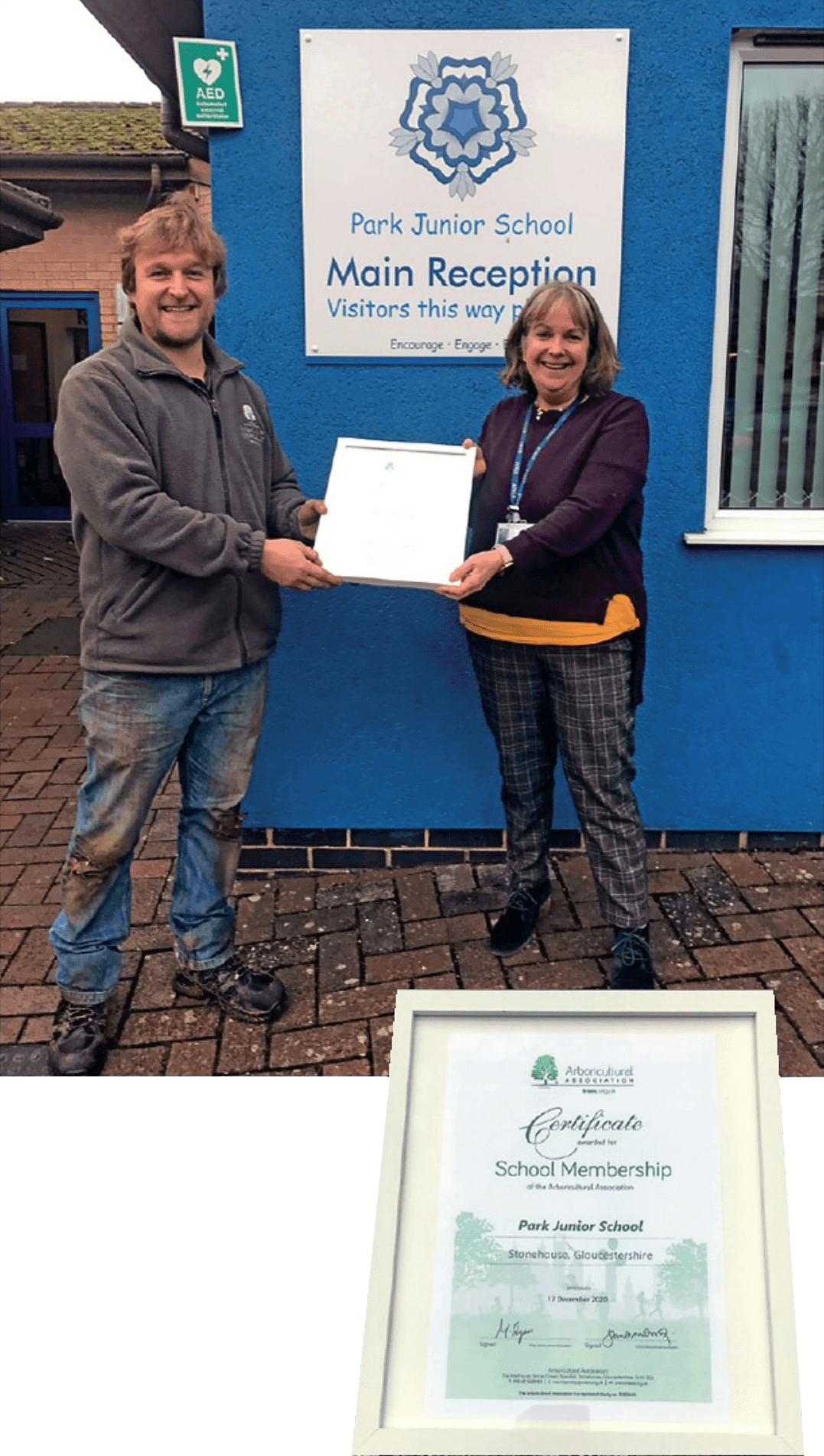 The Association was pleased to award Park Junior School in Stonehouse, Gloucestershire, with the first AA School Membership in December 2020. The free programme aims to engage youngsters in learning about trees, to promote arboriculture as a career choice and to raise awareness of the Association.
Technical Director John Parker held a socially distanced tree planting presentation for the school during National Tree Week, which around 150 children were able to watch, thanks to a competition funded by our friends at the Tree Council. John explained a bit about the different species he was planting as well as why trees are important.
After planting several trees, including an Atlas cedar, John presented Lynne Robbins, Deputy Head, with the school's certificate. More activities are planned with the school, which is a stone's throw from AA headquarters.
As well as offering an opportunity for educational demonstrations like tree planting, school membership will give teachers access to arb-related resources and lesson plans linked to the STEM (science, technology, engineering and maths) curriculum. Schools will also receive a quarterly e-newsletter and the opportunity for a group visit to the ARB Show in future years. Once the programme and its resources have been utilised by Park Junior School, we will be able to refine and improve them, with a view to rolling out to schools nationwide.
There is also scope for school membership to be expanded to involve local AA members and branches as we look to fulfil our goal of fostering a greater connection between the public and our industry.
---
This article was taken from Issue 192 Spring 2021 of the ARB Magazine, which is available to view free to members by simply logging in to the website and viewing your profile area.
National Tree Week
#ArbMatters

The Arboricultural Association is proud to support National Tree Week again in 2020!
Make your voice heard on National Tree Week
28th November – 6th December 2020
To celebrate National Tree Week, we're highlighting the value of the Arboriculture industry to the UK over the next month. Trees are so important and so often undervalued, tree care professionals get even less recognition; we want to change this.
So, with #ArbMatters, we're encouraging everyone to share their personal thoughts on why our industry is so important and why it needs greater recognition, using the hashtag #ArbMatters
Help us showcase this sector full of experts and amazing inspirational stories of people working with trees, pushing the boundaries of knowledge and learning.
Infographics
Why Arboriculture is Awesome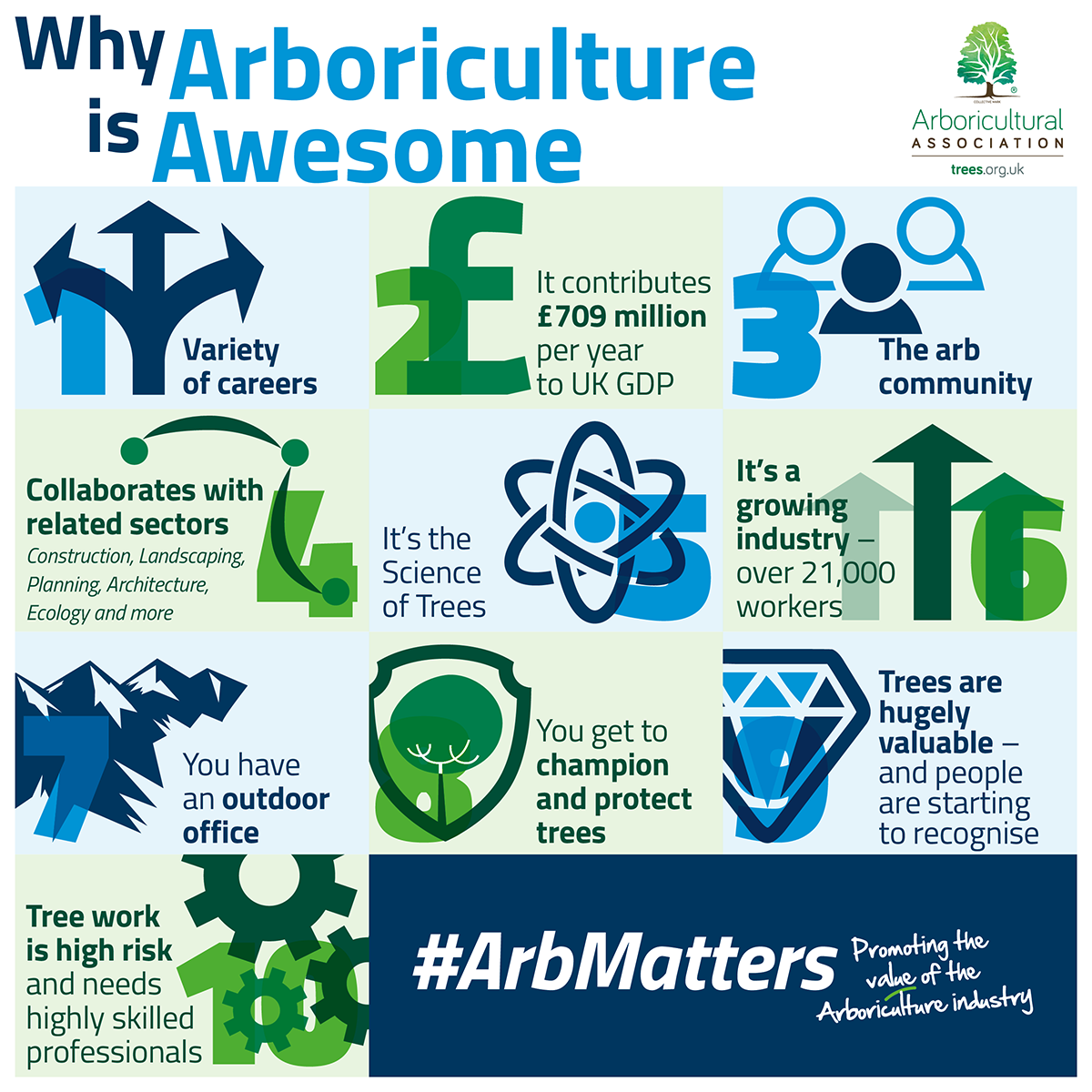 6 tips for Choosing Your Arborist
Tree work operations (arboriculture) require a high degree of technical competence, supported by training and experience. For these reasons tree work should only be undertaken by well-trained, competent arborists experience at the type of work being undertaken, e.g. tree pruning/tree removal.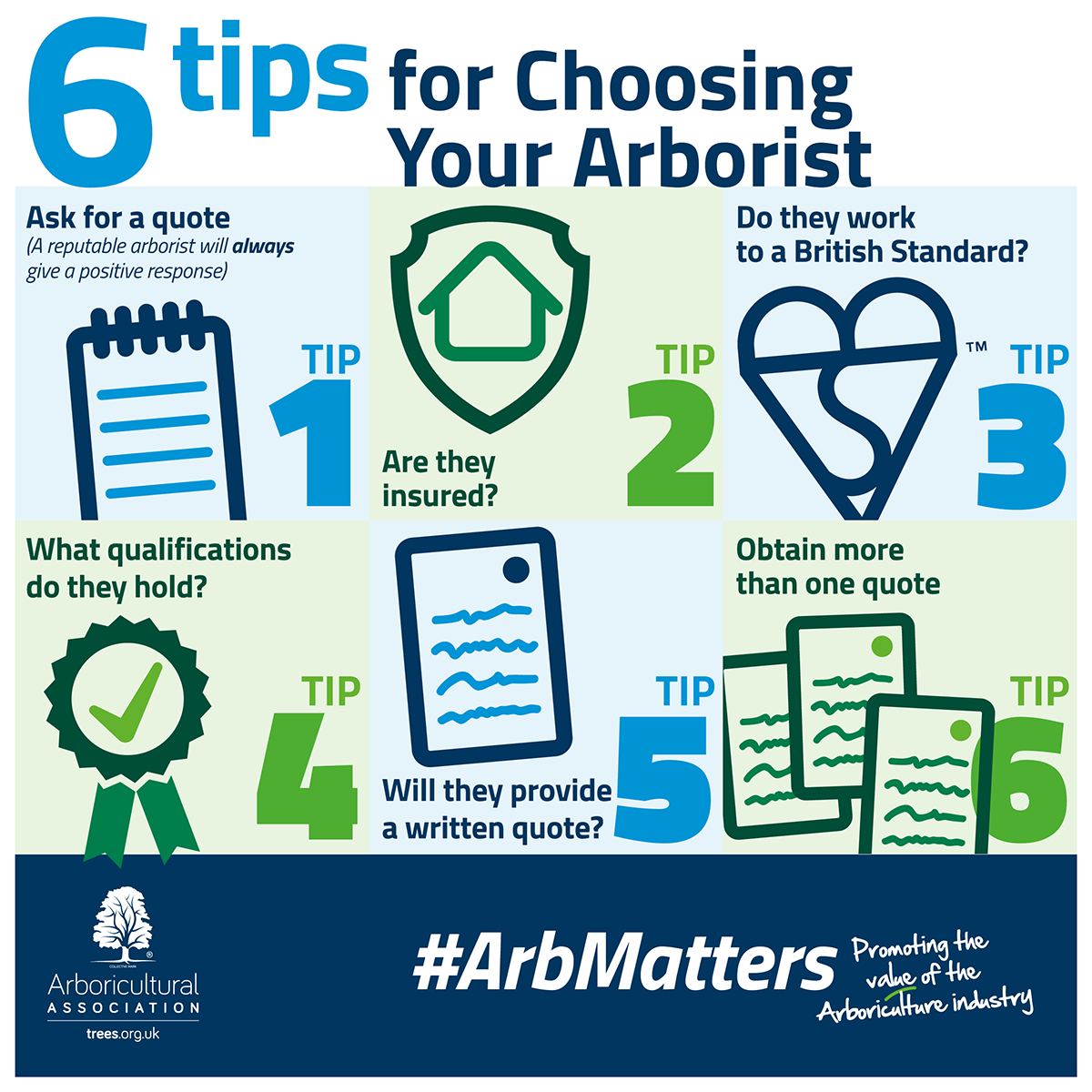 6 careers in Arboriculture
Working in the Arboriculture industry covers a multitude of different careers, each with their own set of experiences and skills. Here's an example of just a few: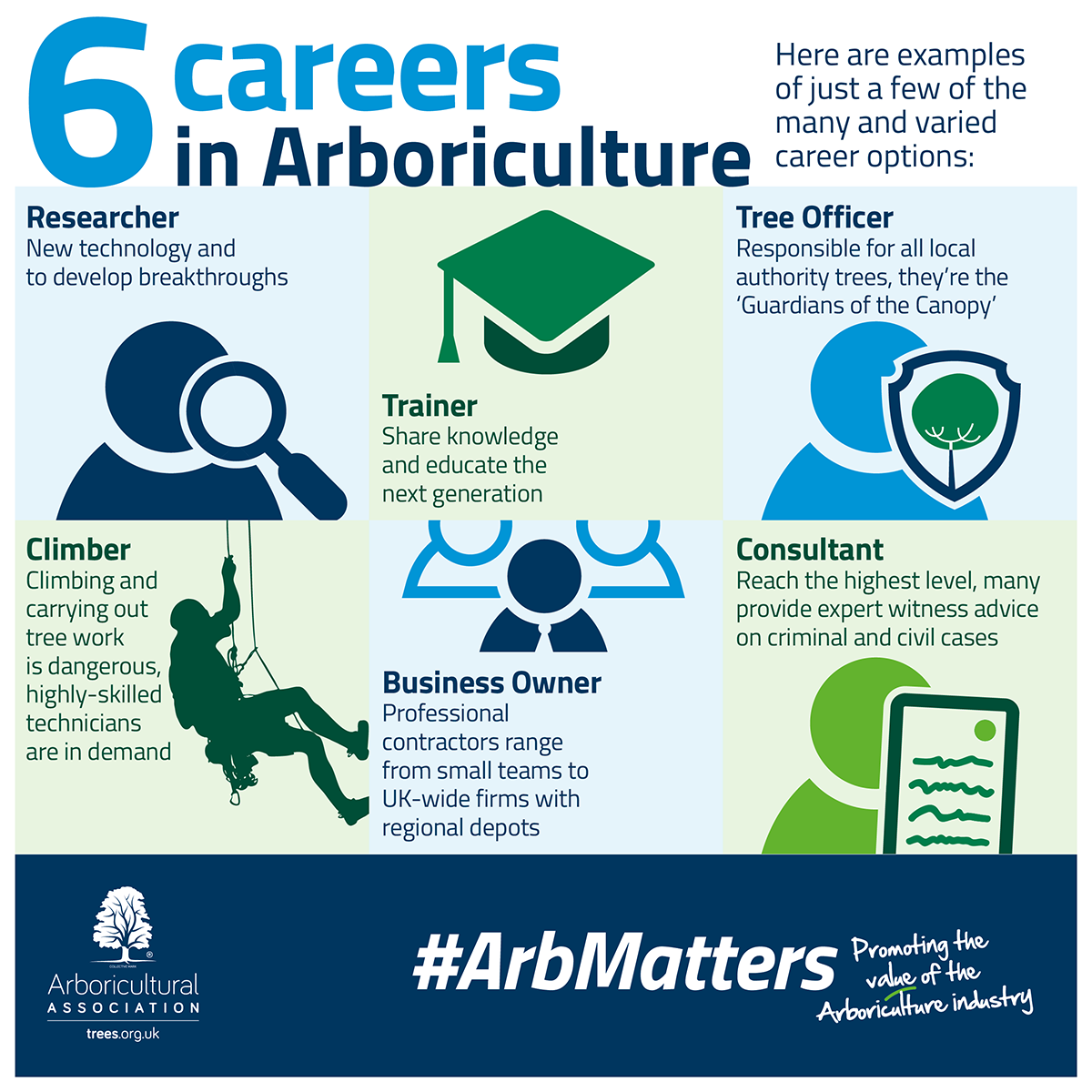 ---
How Can I Help?
Social Media Tool Kit
There are lots of ways you can help to spread the #ArbMatters message
Post a tweet, Facebook, Instagram or LinkedIn post along with an image of you and your team or one of our #ArbMatters social media cards.
Arboriculture Contributes £709 Million to UK GDP – read more
---
Example Social Media Post
Share a picture of you and your team explaining why #ArbMatters to you
Share a picture of a colleague or figure in the industry who inspires you
"We're celebrating National Tree Week at Corp Ltd by promoting the value of #trees and the #arboriculture industry because we want people to understand why #ArbMatters. Did you know Arboriculture contributes £709 Million to UK GDP?"
"Its National Tree Week and I'm celebrating the value of the #arboriculture industry. I love being part of an industry with people from all walks of life, working in different roles, who are brought together by a love for #trees and the outdoors. That's why #ArbMatters to me."
---
Download our Social Media Cards
---

Share a video from our 'Talking Trees' YouTube series
Share your favourite video from our playlist featuring inspirational experts
---
---
Hashtags
#ArbMatters
#NationalTreeWeek
Watering young trees in dry weather

Newly-planted trees need to be watered regularly over the summer months if they are going to become established and thrive.
If you have a tree outside your house, or one that you pass on your daily walk, then you can help.
Requirements vary depending on a number of factors such as species and location, but a general rule is that they should receive at least 50 litres of water per week in May, June, July and August:
Please water regularly during dry perods with as much as you can – Every little helps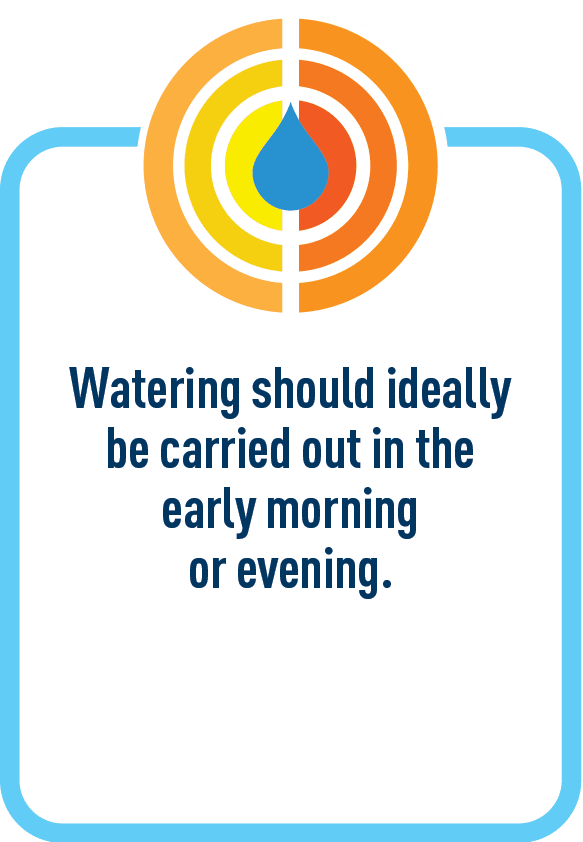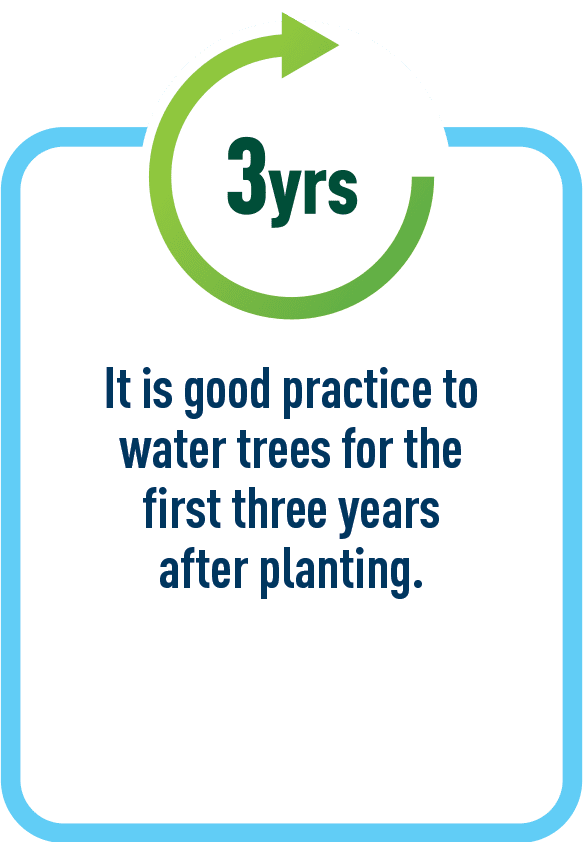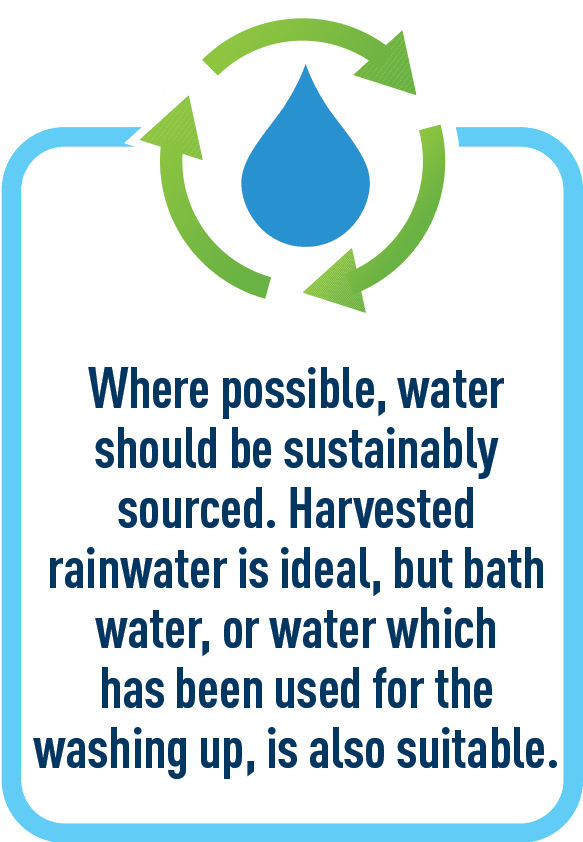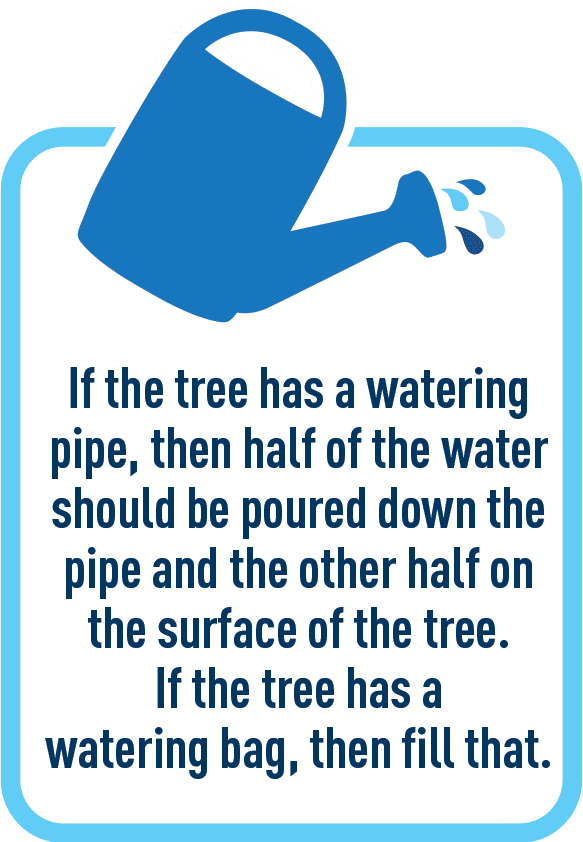 More information about tree watering can be found in the London Tree Officers Association (LTOA) publication Sustainable water management, available for free download at www.ltoa.org.uk
General information about trees and tree care can be found at the Arboricultural Association website www.trees.org.uk



Fersiwn Gymraeg (Welsh Version)
Polish
Spanish
PLEASE NOTE:
If you would like to add your Local Authority or Community Group logo to the tree watering tags then please feel free to do so; however please ensure that this does not replace the logos of the Arboricultural Association, London Tree Officers Association Municipal Tree Officers Association and Association of Tree Officers – the original logos must remain on the tags.
The Women in Arboriculture Group aims to support and champion females in the tree care industry while collaborating to encourage a culture change and greater diversity. The group welcomes views, ideas and constructive comments from anyone in the industry.
Promoting Diversity
Diversity has a vital role to play in raising the profile of arboriculture. By sharing experiences, we hope to encourage more people to seek a career in arboriculture.
Sharing Knowledge
As there is no set path into the industry, the route you take is completely up to you. Qualifications and training ranges from apprenticeships to masters degrees, there's an option for everyone. One thing is for certain, you will never stop learning!
Providing Support
Supporting and offering guidance to those with less experience is crucial, so we've developed a forum for you to ask questions and share knowledge.
12 Faces of Arb
This Women in Arboriculture project looked at 12 inspirational women who've chosen to make their living in this sometimes tough but always exciting industry.